Adult Cosmetology
The Cosmetology program at Greater Johnstown Career and Technology Center is licensed by the Pennsylvania State Board of Cosmetology.
After training, students are eligible to apply for and take the State Board of Cosmetology licensing examination. Upon passing the examination, you will be licensed and qualified for entry-level employment in the cosmetology field. Both men and women are enrolled in this program and do extremely well in the cosmetology industry. Students earn a diploma upon successful completion of the program. The cosmetology "Instructor Program" is also available—please call for details.
Areas of Training
In an effort to stay current with changes and trends in the industry, the program curriculum may change during the program year and will include general training in: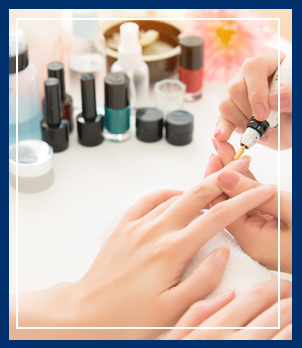 Scientific concepts
Professional practices and employability skills
Customer relations
Record keeping
Decontamination and infection control
Shampooing and scalp treatments
Hair cutting, styling, and designing
Hair removal
Hair extensions
Chemical services including foiling, coloring, and retexturizing
Nail care and artificial nails
Manicure and pedicure skills
Skin care and makeup
Physical services
Take the Next Step
We're thrilled that you've decided to learn more about enrolling in our program! Please follow these steps to apply:
Call the adult education office at (814) 266-6073 ext. 201 Monday through Friday from 8:00 a.m. to 4:30 p.m. to schedule a tour and/or make a registration interview appointment.
You must have a high school diploma or GED.
Be prepared to bring the $100 registration fee with you. You must pay this non-refundable fee before you register, as it secures your seat in class. We will deduct the $100 from your tuition once you begin your program.
During the interview, a GJCTC adult education career will review school policies and procedures along with any entrance requirements you must complete. You will also have the opportunity to ask questions about the program and/or the school.
After your interview, you should begin the application process for financial aid (if applicable).
Once you meet all the requirements, you will receive a letter of acceptance from the supervisor of adult education.